Nanoksi develops and offers its customers solution to secure the working environment in a sustainable way. The foundation of Nanoksi and Hartela's partnership is the determined will to utilize sustainable solutions in premises.
In construction industry, Hartela is the forerunner when it comes to utilizing chemical free innovations to secure hygiene levels in their premises. At the end of April, Nanoksi's Fotonit® coating was applied at Hartela headquarters in Helsinki, Finland.
All Hartela's under construction office buildings will be utilizing Fotonit® coating. Hartela is known as the promoter of sustainable development as part of their wider responsibility work. For the company, it is important to exploit environmentally friendly solutions across areas. The aim is to build a strong and long-lasting bond between Nanoksi and Hartela. Nanoksi is extremely happy that the extensive development work is now bearing fruit.
"We wanted to make sure that returning back to the offices, while still amid the pandemic, feels safe for our personnel. Nanoksi's coating provides additional protection in the common areas of our offices", says Ilmari Hämäläinen, Director of Commercial Project Development and Construction at Hartela Etelä-Suomi Oy
"When developing the work spaces, we seeked solutions to enable safer encounterings and working environments. Co-operation with Nanoksi guarantees safe surfaces in the premises. Together towards safer and healthier offices", continues Hämäläinen.
Today the meaning of hygiene is on a different level. Nanoksi offers concerete solutions for sufficient surface hygiene, which again enable social gatherings. Taking proper care of hygiene in today's premises, is a default to us.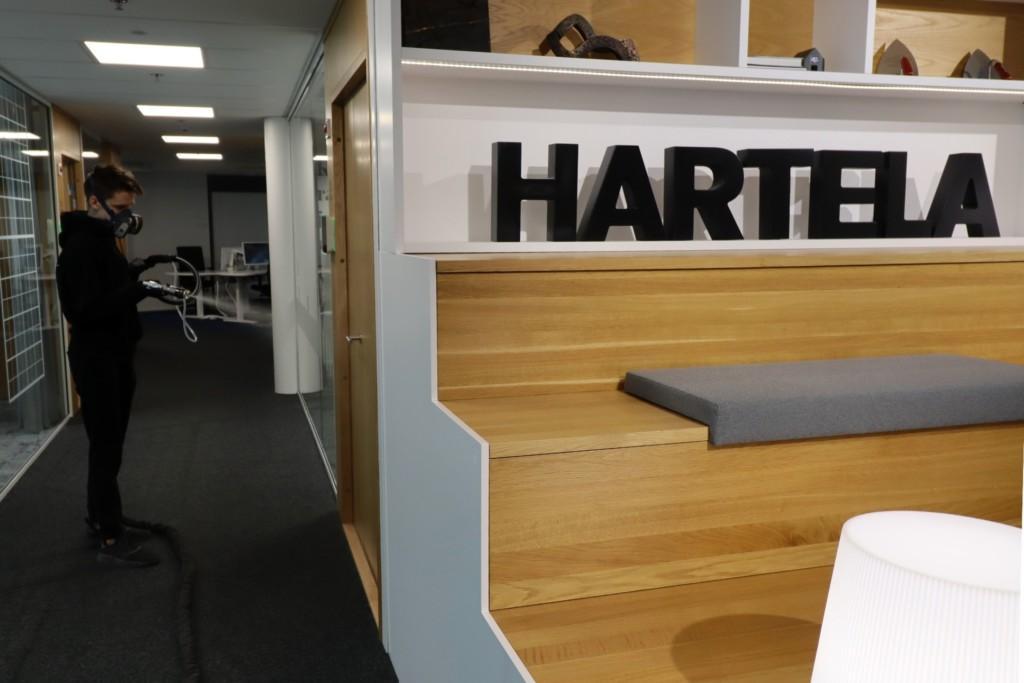 "Utilizing Fotonit® in places, where people meet each other all the time, is an ideal set-up. Our solution makes community gatherings safe", cherishes Jukka Laks, Sales Director at Nanoksi.
Fotonit® coating is a cost-effective and secure solution. The safety of touch surfaces is not sensitive to changing factors such as thoroughness and frequency of the cleaning process – or the requirements set by the surfaces or spaces.
The hygiene of spaces directly correlates to good employee experience and feeling of safety.
"The co-operation with Nanoksi has been seamless. Their product is high-tech, yet simple and safe. We have discussed further and deeper co-operation", says Hämäläinen.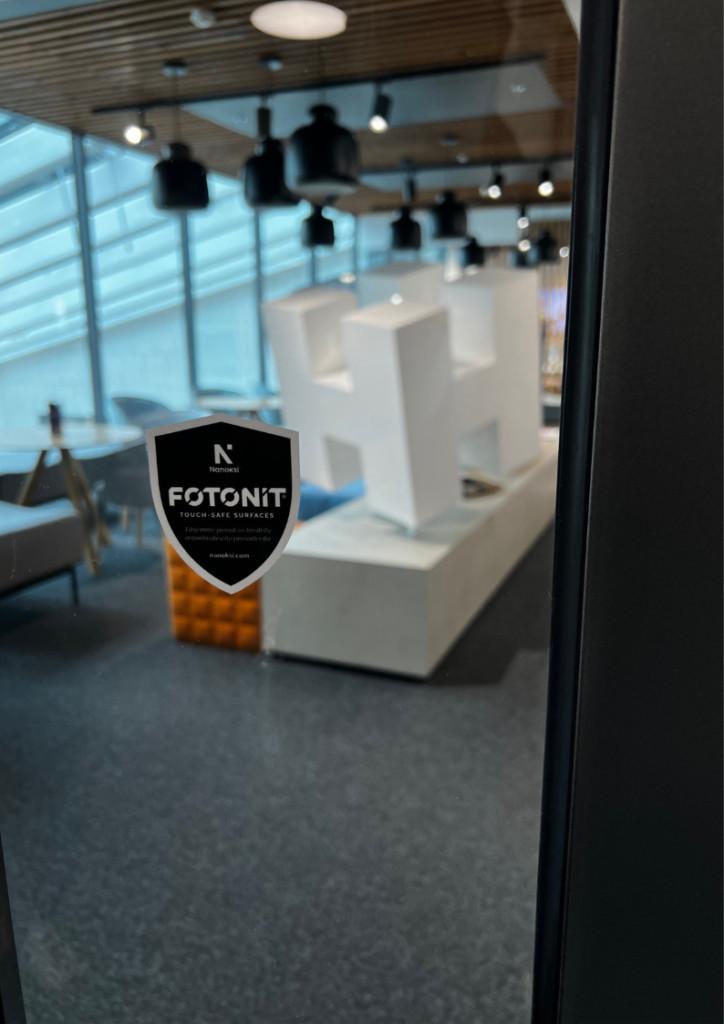 Fotonit® coating lasts for up to 12 months before re-application is needed. The solution provides additional protection especially in spaces where there are a lot of people. In addition, it is more effective and safer an option than traditional, strong chemical based disinfecting.