Instructions
For best FOTONIT® coating results, the use of disinfectants should be avoided. The coating keeps the surfaces antimicrobial around-the-clock. Hand sanitizers should not be used on any coated surfaces.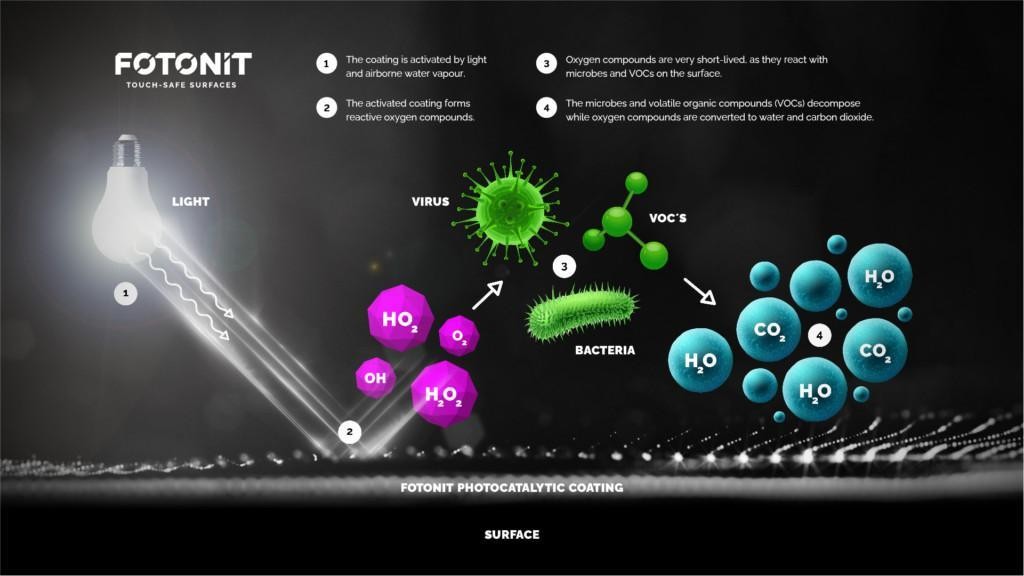 How does FOTONIT® coating work?
Nanoksi Finland's FOTONIT® photocatalytic coating keeps surfaces free of various pathogens. FOTONIT® photocatalytic coating keeps surfaces antimicrobial, therefore there is no need to use other disinfectants. Hand sanitizers are not to be used on surfaces due to their non-volatile compounds that accumulate on the surfaces, creating a substrate for microbes. In the worst case, light will not get to the FOTONIT® coating through the accumulation. Hand sanitizers should be used only on hands.
The coating is activated by the surrounding light, and it destroys effectively viruses, bacteria and other impurities on the surfaces and in the air. The effectiveness of FOTONIT® coating on various microbes has been proven in accredited laboratories.
The recommended renewal interval for FOTONIT® is approximately 12 months and can be used with almost any surface material, both indoors and outdoors, including a variety of electrical equipment. The coating is completely safe for people and the environment.